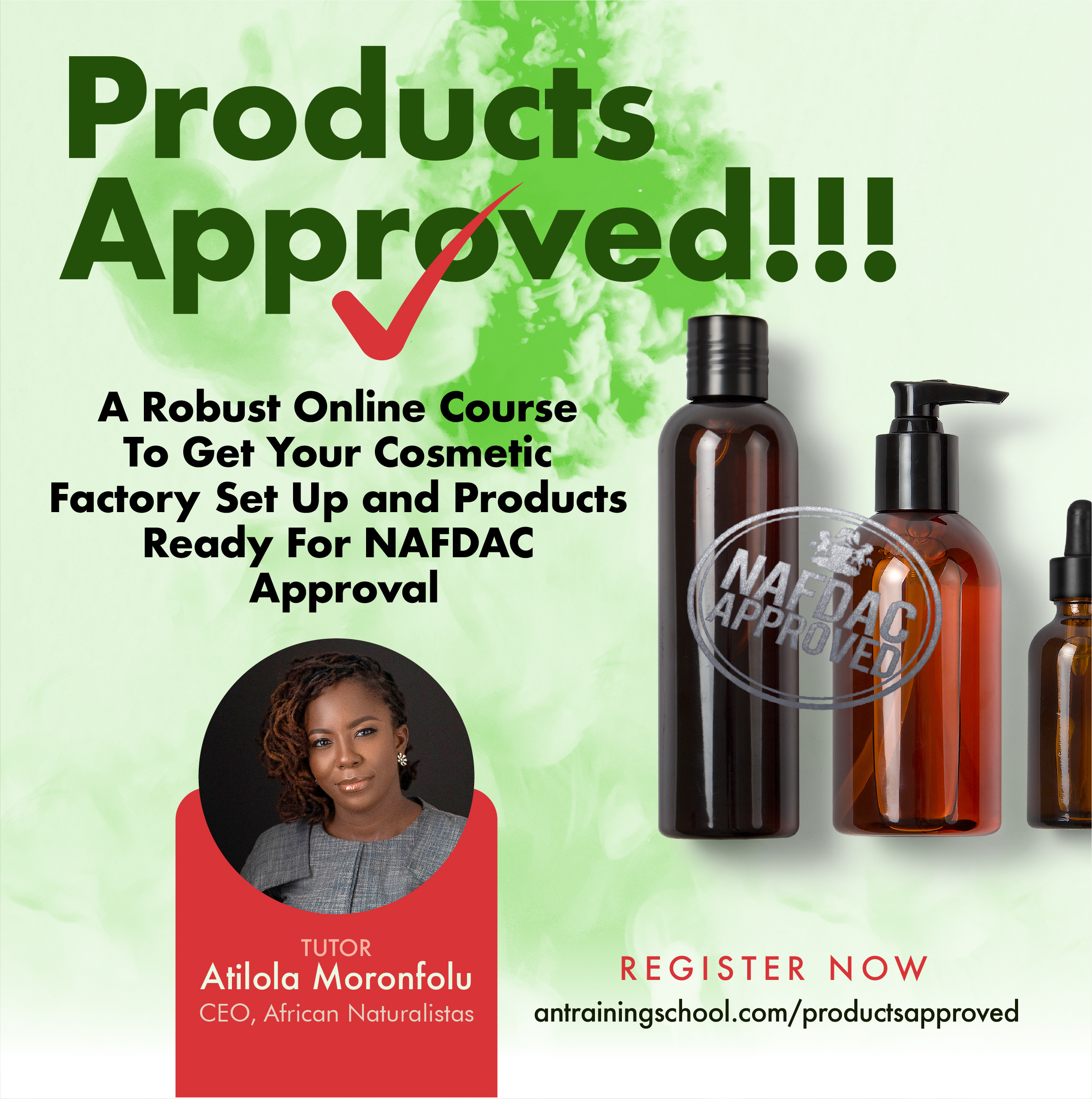 ☞

You want to start a cosmetic business, and get your products NAFDAC approved before launch

☞

You want to cut your journey to success in the cosmetic industry short by 90%

☞

You already have a cosmetic business, but need to be seen as more credible

☞

You are currently in the cosmetic business, but are not sure how to get approved or registered by NAFDAC
☞ You are manufacturing your products outside Nigeria, and want to start selling in the Nigerian market

☞

You want to know how to set up your cosmetic factory to NAFDAC's standards.

☞

You want to start exporting your cosmetic products
Why you should take this course
Sometimes, your cosmetic business has grown past the level you are operating. You know that you need to take it to the next level, but everywhere you go to, doors are slammed into your face because you don't have your Products Approved!!! You go to supermarkets, you hear NO! You want to export, you hear NO! And when you are able to export, you have to pay exorbitant bribes, which you know is not sustainable in the long run, because you business will be too big to move forward. 
After a while, your business gets into a limbo state. You can neither move forward, nor backward because you don't have your Products Approved!!! It's time to take your cosmetic business more serious, and get ahead of your competitors by giving your products more credibility with a NAFDAC-approval.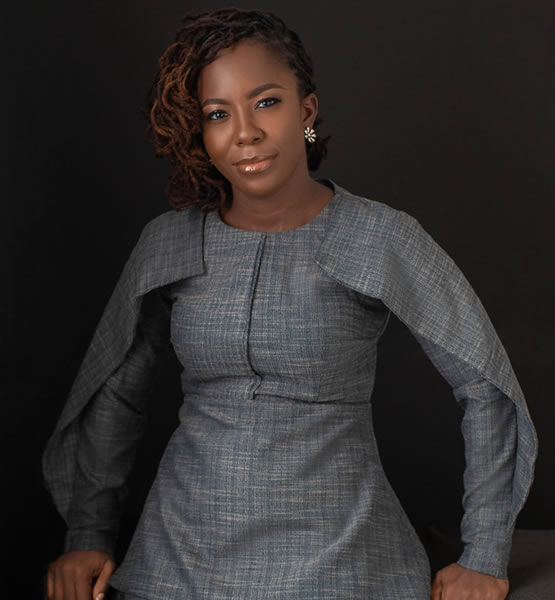 What you stand to gain from the course
Atilola Moronfolu is the head facilitator at AN Training School. She is the founder of African Naturalistas. She is an Advanced Cosmetics Scientist and a Certified Trichologist. She is the lead formulator of African Naturalistas Hair Product, and runs African Naturalistas Hair Clinic.
With a meagre sum of N3,000, Atilola founded African Naturalistas in 2013, and has grown it to a well known brand.
She built her business from a small room in her parents' house to a NAFDAC-Approved factory, and has expanded to over 50 products and several hair care services.
As a pioneer in her industry, Atilola is well known and respected in the small-scale cosmetic industry.
She is a certified GMP expert, and skilled in building structure around your cosmetic business, exportation, pricing matrix, market penetration, amongst other things. 

She is a graduate of Institute of Personal Care Science, BlackwoodAustralia, and a member of the American Association of Drugless Practitioners. Her works and expertise have been featured on several media platforms including BBC, Ebony Life TV, Wazobia TV, Punch Newspapers, and many more
She is an award-winning Spoken Word Artist, and is passionate about the Hair Care industry, and helping small business grow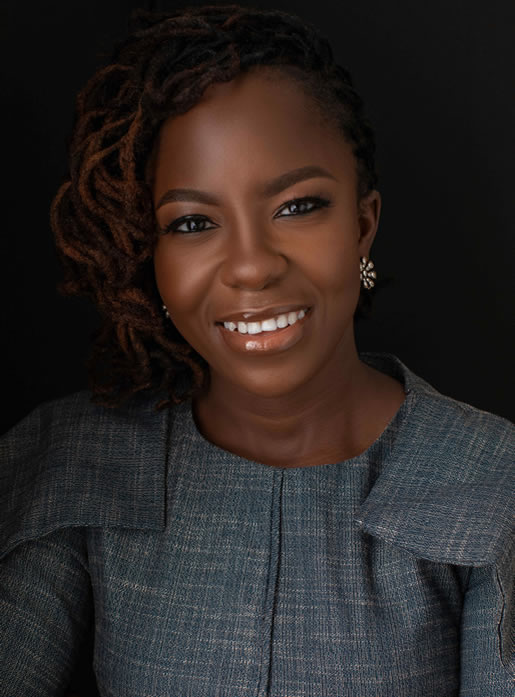 - Intensive training in getting your products NAFDAC-Approved (valued at $463)
- Training in Factory set-up (valued at $ 150)
- Access to credible water treatment experts (valued at $150)
- Access to credible NAFDAC Consultants (valued at $300)
- Nafdac Consultation Mentorship, pre and post-approval ($1000)
Total value : $2,063 or N825,200
But your investment is
$200 / N80,000
Please call +234 (0) 706 114 1501 if you have any questions about this payment
Q. When will this course start?
A. Products Approved will be launched on July 19, 2020. It is not a time-bound course, and will always be available for enrolment at anytime
Q. How long is this course for
A. This is a mini-course that can be taken at your own pace. How long you want to take the course is determined by you.
Q. When does this course start an end?
A. This is a no-drip course. And so, once released, it doesn't have an end date. You can always and enrol for it at anytime. However, you will have access to the course for 2 months, upon enrolment.
Q. How do I pay for the course?
A. You can pay for the course online, with any type of debit or credit card. Even though it is charged in dollars, your naira card can be used. Once payment is made, you will be automatically enrolled for the course
I enrolled for Beyond formulation course in July 2020. Taking Beyond formulation course is one the best decisions I've made for my business. Before taking this course I have made terrible mistakes concerning getting my products certified, but this opened my eyes to see my errors and I was able to correct them.                                                  
 I have gained tremendous knowledge and insights as regarding labeling, branding and market my products.                         
The highlight for me is our one on one sessions with our tutor, she's an amazing person that's always ready to listen to our problems and proffer solutions to them. I have built acquaintances with other awesome business owners too.                                                        
Having gained proper knowledge from this course, I now have a standard production factory and I have started my NAFDAC registration process.                         
I will recommend this course to anyone that's aspiring to take their products to the next level.       
Thank you AN Training School.
I signed up for beyond formulation because I realised there were some basic business information I did not understand based on the sector and sort of target market I was focusing on (mass market vs luxury).
Beyond formulation has helped me to/opened my eyes to actually see what path of marketing and development works for me and my brand and how to finetune my strategy to get the maximum impact for my business.
I learnt what avenues to export my products, how to get my NAFDAC certification done the right way and if my product was meant to be in supermarkets, or online. My favorite part of beyond formulation was definitely the online meetings we had to discuss our various challenges, and also learn from one another. 1
Because of beyond formulation, I have started to build my online store and build my support community who believe and trust in my brand, and I'm already getting results in this aspect with new customers coming in adn me sharing the value of my brand with them.
If you are considering signing up for Beyond Formulation, don't consider, do it!!
I signed up for beyond formulation because I was planning to relaunch my business and I wanted to avoid some previous mistakes that I had made before.
Beyond formulation has helped me to expand my options and understand the benefits and risks attached to sourcing packaging materials as well as raw materials within or outside Nigeria.
I learnt that a lot about your motives for business would play a major part in some of the decisions that you would take.
My favorite part of beyond formulation was the weekly calls where we discussed the modules and asked questions too.
I plan to use the knowledge gained to work on my business relaunch, revisit the business strategy and build a business that will last.
Because of beyond formulation, I have started working on sourcing my packaging straight from the factories which was something that I had not previously considered and I'm also making plans for my NAFDAC certification with better information. Another thing that I hadn't considered was including a price buffer in my costing to allow for changes in prices.
I recommend Beyond Formulation particularly for people who are planning on starting a new cosmetic business or are planning on relaunching. It is worth the investment.
I signed up for beyond formulation because I want to scale up my manufacturing business and also solutions to challenges I was facing in my manufacturing business.
Thanks to Beyond formulation for giving me an in-depth knowledge and understanding on how to successfully scale up my manufacturing business with ease, Tips and tricks I wouldn't have known existed.
I'm super pumped and can't wait to fully implement what I have learnt.
I signed up for the full course and I must say the information I got is priceless (Atilola went all OUT with details people hardly share) I highly recommend this course to anyone who is serious about building a successful and reputable manufacturing business with ease.